List Number 136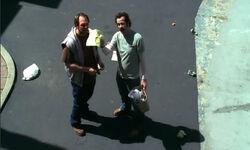 List title
Been a litterbug
Number 136 was an item on The List.
Been a litterbug
Edit
After Earl first tells Randy and Catalina about his list, Randy starts reading a few of the list items to point out to the Earl the futility of his list and karma. Despite that, Earl starts picking up trash in the motel parking lot in order to start picking up as much as he littered so he can cross it off his list. After starting list item 136, the Lottery ticket comes back to Earl so he can have the money to do his list.
Ad blocker interference detected!
Wikia is a free-to-use site that makes money from advertising. We have a modified experience for viewers using ad blockers

Wikia is not accessible if you've made further modifications. Remove the custom ad blocker rule(s) and the page will load as expected.