List Number 152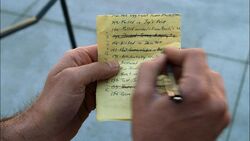 List title
Told Joy Bruce Willis was...
Number
152
was an item on 
The List
.
Told Joy Bruce Willis was her father
Edit
One Day Earl was making joy stay at the motel for a few days cause the witness protection program was inside her trailer, so Earl Held Joy hostage and made her listen to really bad but a Little good songs like
Hoochie Mama
N.W.A (bleep) da police
Bidi Bidi Bum Bum
I got Codes
and the My Name is Earl theme song
Ad blocker interference detected!
Wikia is a free-to-use site that makes money from advertising. We have a modified experience for viewers using ad blockers

Wikia is not accessible if you've made further modifications. Remove the custom ad blocker rule(s) and the page will load as expected.