List Number 183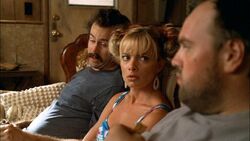 List title
Never took Joy's side
Number 183 was an item on The List.
Never took Joy's side
Edit
Earl remembered back to always taking the side of other people over Joy, such a woman with large breasts, Randy, and even a crab which Joy cracked incorrectly. Earl decided to support Joy, who demanded that Darnell throw her a surprise party for her birthday. Earl help to arrange the party, which caused him to be dragged into Joy's crazed attempts to sell a Bargain Bag van. However, he was able to cross #183 off the List.
Ad blocker interference detected!
Wikia is a free-to-use site that makes money from advertising. We have a modified experience for viewers using ad blockers

Wikia is not accessible if you've made further modifications. Remove the custom ad blocker rule(s) and the page will load as expected.