List Number 201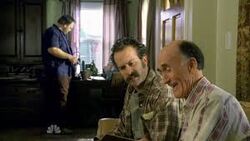 List title
Conned An Old Man Out Of $100
Number 201 was an item on The List
Conned An Old Man Out Of $100
Edit
Earl and Joy saw an advert on TV about orphans in Africa and Joy realized could make a fortune by scamming people so they went around with Randy telling people they were helping children in Africa but only got a $100 cheque from Arthur Hill. Earl went to apologize to Mr. Hill to discover Joy and her friends was still carrying on the scam, so Earl made a plan and arranged for Mr. Hill to go on vacation. Then he faked Mr. Hill's death and made a fake will so Joy and her friends would get greedy and Earl could pretend go to a man who was a fake layer to tell him their charity's weren't real. The fake layer then conned Joy to give him the money taken from Mr. Hill to give to Earl, when Mr. Hill came back Earl gave him the money, told him that the charity's were fake and offered him to go to the Pimmit Hills Trailer Park to laugh at them. But when they arrived the trailer park had gotten worse since they lost their money, Mr. Hill wrote them cheques so they could he could now help people for real.

Ad blocker interference detected!
Wikia is a free-to-use site that makes money from advertising. We have a modified experience for viewers using ad blockers

Wikia is not accessible if you've made further modifications. Remove the custom ad blocker rule(s) and the page will load as expected.