List Number 24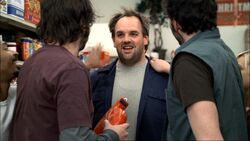 List title
Stole a red 'Take-a-number' machine
Number 24 was an item on The List.
Stole a red 'Take-a-number' machine
Edit
After fearing for the end of the world following the year 2000, Earl, Randy, Joy, Darnell and Donny Jones broke into a Bargain Bag store and took control of it for themselves. They used a 'Take-a-number' machine to decide upon matters; whoever had the lowest numbers was the person who got their way. After they realised that people were still alive after New Year, they quickly left the store, taking the machine with them.
Earl took it back in 2006 and crossed the item off his List.

Ad blocker interference detected!
Wikia is a free-to-use site that makes money from advertising. We have a modified experience for viewers using ad blockers

Wikia is not accessible if you've made further modifications. Remove the custom ad blocker rule(s) and the page will load as expected.