List Number 265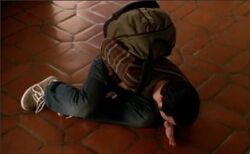 List title
Punched Tom in gut
Number 265 was an item on The List.
Punched Tom in gut
Edit
Earl punched a student after he corrected Earl on a grammatical error he made before talking to Alex Meyers, whose laptop Earl stole several years before (#37).
So far, Earl has not been seen making up for this item.
Ad blocker interference detected!
Wikia is a free-to-use site that makes money from advertising. We have a modified experience for viewers using ad blockers

Wikia is not accessible if you've made further modifications. Remove the custom ad blocker rule(s) and the page will load as expected.