List Number 266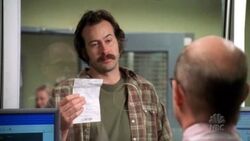 List title
Didn't pay taxes
Number 266 was an item on The List.
Didn't pay taxes
Edit
Earl remembered having not payed taxes to the government in the past, and so decided to make it up to them. However, they did not seem willing to accept his money, and he was even thrown in prison whilst trying to help out. He ended up decided to be fined by the government, then giving them money. He and Randy climbed to the top of a water tower, and tried to be noticed. However, they fell inside instead. After several days they were saved by fire and policemen, and were charged $500 for trespassing and breaking the water tower. Earl crossed the item off his List.
For some reason, "Didn't pay taxes" is written twice on the List (see image). A possible reason for this is that the scene required an extra take (and so they had to rewrite the list item), although the previous item was listed as #265.
Ad blocker interference detected!
Wikia is a free-to-use site that makes money from advertising. We have a modified experience for viewers using ad blockers

Wikia is not accessible if you've made further modifications. Remove the custom ad blocker rule(s) and the page will load as expected.