List Number 267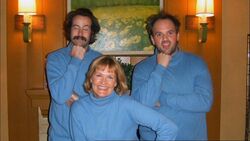 List title
Never gave mom a good Mother's Day
Number 267 was an item on The List.
Never gave mom a good Mother's Day
Edit
Earl remembers never having given his mother a present on Mother's Day, and so decided to make it up to her by fulfilling the promises he made in some homemade coupons stolen from Kenny James as a child. They took portraits, watched old movies, gardened and much more.
It is presumed that Earl crossed this off the List, but it is never seen.

Ad blocker interference detected!
Wikia is a free-to-use site that makes money from advertising. We have a modified experience for viewers using ad blockers

Wikia is not accessible if you've made further modifications. Remove the custom ad blocker rule(s) and the page will load as expected.