List Number 33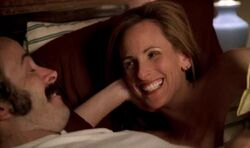 List title
Been a lazy lover
Status
Complete (presumed)
Number 33 was an item on The List.
Been a lazy lover
Edit
After meeting Ruby, Joy's deaf lawyer, Earl falls for her. Earl and Ruby go out on a date together and after some hanky-panky, Ruby looks at Earl's list and tells him to cross number 33 off, "Been a lazy lover."
Ad blocker interference detected!
Wikia is a free-to-use site that makes money from advertising. We have a modified experience for viewers using ad blockers

Wikia is not accessible if you've made further modifications. Remove the custom ad blocker rule(s) and the page will load as expected.