List Number 37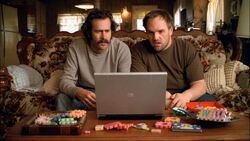 List title
Stole a laptop
Number 37 was an item on The List.
Stole a laptop
Edit
Earl and Randy stole a laptop from Professor Alex Meyers at Frostburg College. After finding the laptop at Joy's trailer, they went to the college and found Professor Meyes, who Earl was shocked to see was a woman. He gave her back the laptop, and crossed her off the List.
However, Earl stayed with Alex after she asked him to speak about karma in her psycology class, despite the fact he had promised an old lady he would fix a bus stop, #264. Eventually karma told him he had to leave, and despite the fact that Alex said she really liked him, Earl went back to continue to work on his List.
Ad blocker interference detected!
Wikia is a free-to-use site that makes money from advertising. We have a modified experience for viewers using ad blockers

Wikia is not accessible if you've made further modifications. Remove the custom ad blocker rule(s) and the page will load as expected.