List Number 40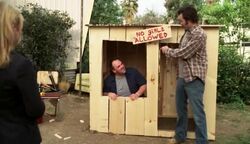 List title
Wrecked the kids' playhouse
Number 40 was an item on The List.
Wrecked the kids' playhouse
Edit
One night, Earl was drunk and drove through Dodge and Earl Jr.'s playhouse. While the children fortunately escaped from the carnage unscathed, Earl had totaled the playhouse. Earl and Randy rebuild the playhouse while a reporter, Nicole Moses films them in order for Earl and Randy to make up for costing Nicole her old news reporting time slot.
Ad blocker interference detected!
Wikia is a free-to-use site that makes money from advertising. We have a modified experience for viewers using ad blockers

Wikia is not accessible if you've made further modifications. Remove the custom ad blocker rule(s) and the page will load as expected.