List Number 42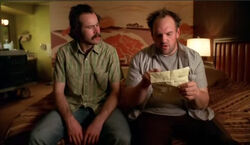 List title
Cut holes in all of Dad's shirts to show his nipples
Status
Complete (presumption)
Number 42 was an item on The List.
Cut holes in all of Dad's shirts to show his nipples
Edit
As Earl looked for something on his List to make up to his father, Randy suggested #42. However, Earl said his father's nipples had drooped down six inches since he did that, so that item "crosses itself off".
It is unknown if Earl actually did cross this item off his List, but from what he says it can be assumed he did.
Ad blocker interference detected!
Wikia is a free-to-use site that makes money from advertising. We have a modified experience for viewers using ad blockers

Wikia is not accessible if you've made further modifications. Remove the custom ad blocker rule(s) and the page will load as expected.