List Number 43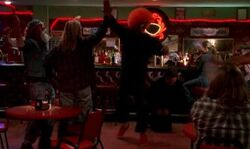 List title
Racked a rich guy
Number 43 was an item on The List.
Racked a rich guy
Edit
Little Chubby went a step too far one day, he cut Randy's rattail off and made Joy drink it along with her drink. Earl disguises himself and kicks Little Chubby very hard in the nuts for Joy's revenge. Years later, Little Chubby returns and is nice like Earl, but now this prevents Earl from crossing him off the list. Earl discovers Little Chubby has messed up testicles because of the kick Earl gave him years ago. Earl crosses Little Chubby off his list by supporting Little Chubby while he was getting surgery to repair his damages. Little Chubby starts to become a jerk again, and gets revenge on Earl by tying him to a chained fence with baseballs firing at him. But Earl reminds LC of wanting to be liked. So Little Chubby gets hit again so he stops being so aggressive.
Ad blocker interference detected!
Wikia is a free-to-use site that makes money from advertising. We have a modified experience for viewers using ad blockers

Wikia is not accessible if you've made further modifications. Remove the custom ad blocker rule(s) and the page will load as expected.