List Number 47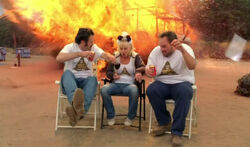 Number 47 was an item on The List
Stole an RV
Edit
Earl, Joy and Randy stole a R.V from Jerry to go on vacation, they were enjoying themselves until the RV exploded because Randy left the stove on. Earl found Jerry in the same spot he stole the RV waiting to die, Earl helped Jerry by replacing the stuff that was in the RV which caused Jerry to try and kill his army buddy Joe for abandoning him when he was injured during the war but after Joe saved Jerry from a heart attack Jerry forgave him.
Ad blocker interference detected!
Wikia is a free-to-use site that makes money from advertising. We have a modified experience for viewers using ad blockers

Wikia is not accessible if you've made further modifications. Remove the custom ad blocker rule(s) and the page will load as expected.