List Number 49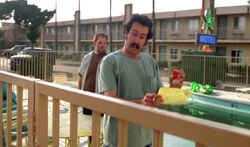 List title
I've been wasteful
Number 49 was an item on The List.
I've been wasteful
Edit
Earl finishes a pack of cigarettes to prevent being wasteful and to prolong having to not quit smoking (see 102) ("Quit Smoking").Tom Sparks, the former lead singer of their rock band "Phish Tahko" before being voted out of the band, mentioned this item before "Slept with Ralph's Mom" whilst talking to Ralph ("Van Hickey"). He also mentioned used this item to convince himself to stay at the Sunshine Collective commune (see 26) ("Robbed a Stoner Blind").
Ad blocker interference detected!
Wikia is a free-to-use site that makes money from advertising. We have a modified experience for viewers using ad blockers

Wikia is not accessible if you've made further modifications. Remove the custom ad blocker rule(s) and the page will load as expected.