List Number 56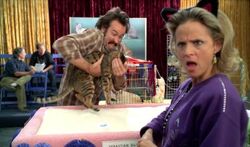 List title
Larceny of a kitty cat
Number 56 was an item on The List.
Larceny of a kitty cat
Edit
In order for Joy's cat to have a chance of winning the Camden County Cat Show in 2003, Earl tries to take out the front-runner for the competition, Sebastian. Earl couldn't harm Sebastian so he hid him at the Sleeping Cat Lady's house. Three years later, Earl, Randy, and Judy, Sebastian's owner, return to the Sleeping Cat Lady's House to retrieve Sebastian. Randy falls for Judy and starts a relationship with her, pretending to love cats as much as she does and hiding his cat allergies from her.
Earl then realizes Sebastian belongs on his list because he robbed the cat of his chance for success. Earl trains Sebastian to become a winner at the cat show again. Earl fails at training Sebastian, but after Randy and Judy end their relationship, Judy takes Sebastian back. Judy agrees to train Sebastian again so Earl can cross Sebastian off his list too.
In the opening credits, 56 was shown to be Stole Liquor from Liquor store.
Ad blocker interference detected!
Wikia is a free-to-use site that makes money from advertising. We have a modified experience for viewers using ad blockers

Wikia is not accessible if you've made further modifications. Remove the custom ad blocker rule(s) and the page will load as expected.