List Number 58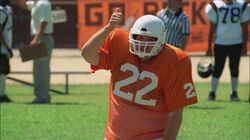 List title
Fixed a high school football game
Number 58 was an item on The List.
Fixed a high school football game
Edit
After making a bet with Camden County's local bookie and pawn shop owner, Rosie, Earl rigs the game by instructing Randy to lose on purpose.
Earl gave Rosie back the money he won unfairly and crossed off the list item.
Ad blocker interference detected!
Wikia is a free-to-use site that makes money from advertising. We have a modified experience for viewers using ad blockers

Wikia is not accessible if you've made further modifications. Remove the custom ad blocker rule(s) and the page will load as expected.