List Number 73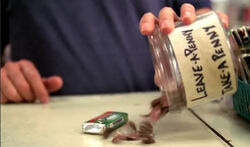 List title
Always took a penny, never left a penny
Number 73 was an item on The List.
Always took a penny, never left a penny
Edit
Before the list, Earl used to take the coin jar at convenience stores and use them as his own cash to pay for things. He made up for this by putting hundreds of pennys in a tray at a store.
In "White Lie Christmas" #73 is "Accidentally started a forest fire". It also links with #78, in which Earl says that he got drunk on Easter, which caused the forest fire.
Ad blocker interference detected!
Wikia is a free-to-use site that makes money from advertising. We have a modified experience for viewers using ad blockers

Wikia is not accessible if you've made further modifications. Remove the custom ad blocker rule(s) and the page will load as expected.