List Number 74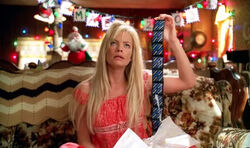 List title
Always ruined Joy's Christmas
Number 74 was an item on The List.
Always ruined Joy's Christmas
Edit
Earl and Randy attempt to win a car a local radio station is holding a contest for so Earl will have a gift for Joy so he can make up for the six years of horrible Christmas gifts he has given to her. Randy wins the car but Joy's mother Connie Darville takes off with it and gambles it away at an indian casino. Through various events, Earl manages to bring Joy's parent's and Joy's current husband Darnell together and also gives Joy's children gifts to make up for the past.
Ad blocker interference detected!
Wikia is a free-to-use site that makes money from advertising. We have a modified experience for viewers using ad blockers

Wikia is not accessible if you've made further modifications. Remove the custom ad blocker rule(s) and the page will load as expected.