List Number 83
[[Image:|List Number 83|250px]]
List title
Never took the time to teach Randy to blow a bubble
Number 83 was an item on The List.
Never took the time to teach Randy to blow a bubble
Edit
Earl never tried to teach Randy how to blow a bubble and tries teaching him in the Crab Shack but doesn't succeed, he eventually learns to do with the help of Joy.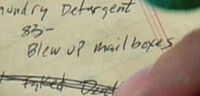 Just as Earl adds #260 to his List, above it can been seen an alternate #83; Blew up mailboxes.
Randy blew a bubble in Camdenites (Part 2) and taught Greta how to as well, which Earl points out to him.
Ad blocker interference detected!
Wikia is a free-to-use site that makes money from advertising. We have a modified experience for viewers using ad blockers

Wikia is not accessible if you've made further modifications. Remove the custom ad blocker rule(s) and the page will load as expected.