List Number 87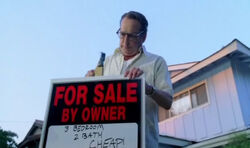 List title
Chased away mom and dad's friends.
Number 87 was an item on The List.
Chased away mom and dad's friends
Edit
Earl played many pranks on Clark Clark, a neighbour, as a child, which he thought forced Clark from their street. However, he learnt that Clark had had an affair with Earl's mother, Kay, which was his reason for leaving. Earl informed his father, who left his wife. However, the two soon reconciled and, as Earl was never to blame, the item was crossed off.
Earl was never shown crossing the item off, but as Clark's departure was not actually his fault, it is presumed that he crossed it off.
On an earlier episode, when crossing off another item on the list, it shows it as #87 I broke into houses ("Sticks & Stones")
Ad blocker interference detected!
Wikia is a free-to-use site that makes money from advertising. We have a modified experience for viewers using ad blockers

Wikia is not accessible if you've made further modifications. Remove the custom ad blocker rule(s) and the page will load as expected.