List Number 9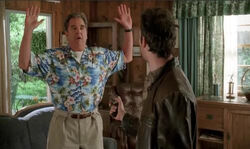 List title
Ruined my parents' vacation
Number 9 was an item on The List.
Ruined my parents' vacation
Edit
While Earl was in a coma his dad reminded him of this number. Earl and Randy's parents were going on vacation and after they left Earl, Randy and Joy went to the liquor store. While Randy was in the store a drug dealie put his bag in the back of the car and went to talk on a pay-phone. Randy returned with the liquor, no one knowing about the bag, and set off for home. When they returned they found out the bag was full of marijuana. They then went to the general store to buy small bags, hoping to sell the pot, but the drug dealie found them and held them at gun-point. Meanwhile the parents came home because their plane was delayed by 5 hours and found the pot. Earl's dad burned it. When Earl, Randy and Joy returned with the dealie, Earl's father lied and said he threw it down the well. The dealie held Joy and Earl's mother hostage at home, and Earl's father revealed what really happened to the pot. He used Earl's college money to buy replacement pot, missing his own vacation in the process. However, Earl's father forgave him and crossed it off the List.
Ad blocker interference detected!
Wikia is a free-to-use site that makes money from advertising. We have a modified experience for viewers using ad blockers

Wikia is not accessible if you've made further modifications. Remove the custom ad blocker rule(s) and the page will load as expected.