List Number 98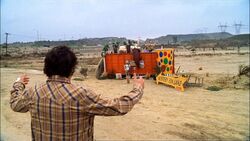 List title
Told Dodge and Earl Jr. we would have a father son day at Mystery Fun Land and didn't take them
Number 98 was an item on The List
Told Dodge and Earl Jr. we would have a father son day at Mystery Fun Land and didn't take them
Edit
Earl rejected Dodge and Earl Jr. when the promised them to take them to Mystery Fun Land because he decided to go to an AC/DC concert instead. When Earl decided to make it up to the boys, since Randy could not do this list item on his own as the Right Choice Ranch wouldn't let him sign Dodge and Earl Jr. out, he discovered that Mystery Fun Land had been torn down when he got there. Earl said he did not know to make it up to the boys, but they said that they forgave him for not taking them, and told him that he could cross them off the List.
Ad blocker interference detected!
Wikia is a free-to-use site that makes money from advertising. We have a modified experience for viewers using ad blockers

Wikia is not accessible if you've made further modifications. Remove the custom ad blocker rule(s) and the page will load as expected.