Abdoulaye N'Gom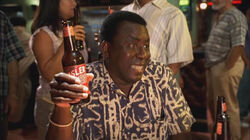 Abdoulaye N'Gom plays Nescobar-A-Lop-Lop on My Name is Earl. Nescobar is seen as the leader of the supporting cast, or the Camden's, of My Name is Earl, appearing in many episodes. He is credited as singing the show's theme tune "What Goes Around Comes Around", as Nescobar-A-Lop-Lop and the Camden County Band.
Selected filmography
Edit
That's my boy (2012)
Grandma's Boy (2006)
George of the Jungle 2 (2003)
Confidence (2003)
George of the Jungle (1997)
Home Alone 2: Lost in New York (1992)
The Super (1991)
Green Card (1990)
C.A.T. Squad: Python Wolf (1988)
Television appearances
Edit
My Name Is Earl (2005-2008)
ER (2003)
The West Wing (2003)
Gideon's Crossing (2001)
Dharma & Greg(2000)
The X Files (1999)
G vs E (1999)
Born Free (1998)
V.R. Troopers (1995)
Roots: The Next Generations (1979)
Ad blocker interference detected!
Wikia is a free-to-use site that makes money from advertising. We have a modified experience for viewers using ad blockers

Wikia is not accessible if you've made further modifications. Remove the custom ad blocker rule(s) and the page will load as expected.