Alex Meyers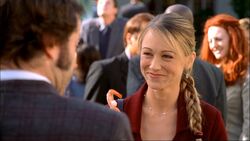 Mentioned in
{{{Mentioned}}}
Date of birth
{{{Birth}}}
Date of death
[[{{{Death}}}]]
Profession
{{{Profession}}}
[[:Category:{{{Images}}}|Images]]

Alex Meyers was a professor who Earl stole a laptop from. She was #37 on his List.
Before Season 1
Edit
Alex was a professor of psycology at Frostburg College. Earl and Randy stole Alex's laptop ("The Professor").
Earl took the laptop back to Alex, who at first was worried Earl was going to attack her. After calming down, Earl explained the List to her and she asked him to speak at her psycology class. He agreed to do so, and after the class really liked his stories about his life, karma, and the List, he and Alex began to spent a lot of time together. However, karma began to remind Earl that he had promised an old lady that he would fix a bus stop, #263, and was not doing so he could spent time with Alex.
Alex invited Earl to go to a lunch with her, but after being hit in the face with two frisbees, almost being hit with a bottle rocket, being hit with a dart and being badly stung by a bee twice, Earl left to cross an item off his List. He was unsuccessful, and told karma that he would cross items off when he wanted. He went back and found Alex, who had been stung badly all over her face by the bees. Karma was punishing Alex so he would do something on his List.
Earl told Alex that he did not think the two of them could be together, as Earl needed to focus on his List for now. She understood, and after their first and last kiss, Earl left the College.
Earl felt he was missing a woman to share his life with so he called Alex to see if she was available, but she called back telling him she was married now. ("The Trial")

Ad blocker interference detected!
Wikia is a free-to-use site that makes money from advertising. We have a modified experience for viewers using ad blockers

Wikia is not accessible if you've made further modifications. Remove the custom ad blocker rule(s) and the page will load as expected.