Cappy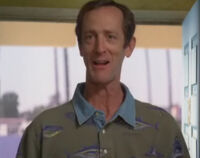 Mentioned in
{{{Mentioned}}}
Date of birth
{{{Birth}}}
Date of death
[[{{{Death}}}]]
Profession
{{{Profession}}}
[[:Category:{{{Images}}}|Images]]
Cappy was once Earl and Randy's neighbor at The Palms Motel who would't stop talking and telling stories, Randy liked him but Earl didn't and signaled to Catalina to move him to a different room which upset Randy. After crossing Lloyd off his list, Earl realized he only saw the bad in Lloyd and needed to be like Randy who saw the good in him, so Earl joined in to Randy and Cappy's conversation when they were talking by the pool.
Ad blocker interference detected!
Wikia is a free-to-use site that makes money from advertising. We have a modified experience for viewers using ad blockers

Wikia is not accessible if you've made further modifications. Remove the custom ad blocker rule(s) and the page will load as expected.