Charmaine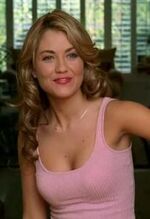 Mentioned in
{{{Mentioned}}}
Date of birth
{{{Birth}}}
Date of death
[[{{{Death}}}]]
Profession
{{{Profession}}}
[[:Category:{{{Images}}}|Images]]

Charmaine is Mr. Patrick's ex-wife.
Earl meet Charmaine when Mr. Patrick made him take some toilet paper to his house, since Mr. Patrick was horrible Earl could't understand why he deserved to have a wife as beautiful as Charmaine and why Karma wasn't punishing him. Eventually Earl lost his temper with Mr. Patrick and punched him causing him to the emergency room. When Charmaine came to see him she meet a woman that he had been cheating on her with, so she kicked him out of the house as well as break his mugs and throw his clothes out the window. As Charmaine was doing this she found the money that he stole from the restaurant and Mr. Patrick ended up in prison.
Ad blocker interference detected!
Wikia is a free-to-use site that makes money from advertising. We have a modified experience for viewers using ad blockers

Wikia is not accessible if you've made further modifications. Remove the custom ad blocker rule(s) and the page will load as expected.