Donny Jones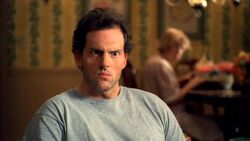 Appeared in
{{{Appearances}}}
Mentioned in
{{{Mentioned}}}
Date of birth
{{{Birth}}}
Date of death
[[{{{Death}}}]]
Profession
{{{Profession}}}
[[:Category:{{{Images}}}|Images]]

Donny Jones was a former stealing friend of Earl Hickey. He had a sister.
Before Season 1
Donny and Earl used to be good friends, but Earl later avoided him because he believed Donny to be crazy. One time after a paper boy threw his paper at Donny's beer, Donny tackled him to the ground.
Earl robbed a donut store with a water pistol, hiding his face under a pair of women's tights. Earl failed in his attempt to rob the store and fled. However, Earl was wearing Donny's shirt while he robbed the store and caught his cold, causing the clerk in the store identified the thief as being Donny. Donny was sent to prison and served two years. In his time in jail, he found religion.("Quit Smoking")
Donny was with Earl when they thought the end of the world came following the year 2000. They took over a Bargain Bag store, and tried to start the world again. However, they soon found out that the world was not over, and left the store quickly ("Y2K").
Season 1
Earl met up with Donny to cross #112 off his List. He explained that it was he who tried to rob the shop, and asked how he could make it up to him. Donny said that it did not matter, and that if he had not gone to prison, he would never have found God, and so told him to cross him off his List. However, Donny's mom was very unhappy because Earl had caused Donny to be away from her for two years. He helped her to gain two more in her life by quitting smoking ("Quit Smoking"). Donny took the red 'Take-a-ticket' machine back to the Bargain Bag with Earl ("Y2K").
Season 2
Donny appears on Camden County's 'Cops' episode when he is shown naked on his front lawn with a fake snake around his body. His defense is that his great grandfather fought for the right for him to be naked on his lawn. ("Our 'Cops' Is On!") Donny attended Earl's Birthday Party at the Crab Shack.Earl passes the Karaoke mic to Donny Jones, who sings a bad version of Pat Benatar's "Heartbreaker" entitled "Pot Breaker". Earl paid Donny to "peep" on Joy because she was feeling bad about being pregnant. This led to the neighbors catching Donny and breaking a potted fern over his head. Donny later absolved earl of completing this list item.("The Birthday Party").
Season 3
Season 4
Donny was in Earl and Joy's Anniversary when he tryed to kill a bee with a gun.