Frostburg College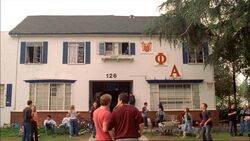 Frostburg College is college where Professor Alex Meyers teaches psychology.
Earl went to visit her there to fix #37, but stayed for several days after he and Alex became close. They attended a lunch together, but karma attacked Earl for not crossing an item off his List, and both he and Alex were stung badly by bees. Earl realised he had to leave, despite how much he liked Alex.
Meanwhile, Randy stayed in the fraternity, and enjoyed drinking beer and riding around on little bicycles. The brothers wanted to 'pledge' Randy with them, but when he saw there were going to hit him with little paddles, Randy caused a riot by saying they should hit those who hit them in the first place rather than hitting innocent other people.
Buildings
Edit
Dunkle Hall; the psycology building (actuall Academic Building at Frostburg State)
Diehl Hall; Residence Hall (actual Residence Hall at Frostburg State)
126, the fraternity building (pictured)
The college is based upon Frostburg State University, the real life alma-mater of Greg Garcia.
Ad blocker interference detected!
Wikia is a free-to-use site that makes money from advertising. We have a modified experience for viewers using ad blockers

Wikia is not accessible if you've made further modifications. Remove the custom ad blocker rule(s) and the page will load as expected.