Gwen Waters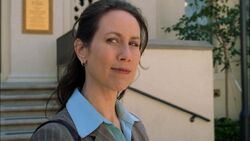 Mentioned in
{{{Mentioned}}}
Date of birth
{{{Birth}}}
Date of death
[[{{{Death}}}]]
Profession
{{{Profession}}}
[[:Category:{{{Images}}}|Images]]

Gwen Waters was a girl who Earl shot with a BB gun as a child. She was #147 on the List.
Before Season 1
Edit
Earl had a crush on Gwen as a child, but became jealous when other boys spoke to her, something he could not bring himself to do. He tried to shoot one of them with a BB gun, but missed and hit Gwen instead. He lied to her father, saying that a bird fell and hit her. After this, her father never trusted her again("BB").
Earl helped to reunite Gwen with her father, with whom she had become estranged. He managed to tow her father, Paul's trailer to her place of work, the courthouse, and she saw that she should not be angry at him as he got what he deserved for leaving her mother when she was younger. She told Earl to cross her off the List.
Ad blocker interference detected!
Wikia is a free-to-use site that makes money from advertising. We have a modified experience for viewers using ad blockers

Wikia is not accessible if you've made further modifications. Remove the custom ad blocker rule(s) and the page will load as expected.