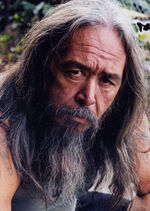 This
Homeless man
portrayed by Maxie J. Santillan Jr. lived in an old RV in the forest, which was a former vacation home for
Earl
and
Joy
. His real name is
Sparky
, but all everyone including Earl and Joy commonly knew him as the
Gay Homeless Guy
.
In "Bounty Hunter", Earl and Joy escaped to the RV, to hide from Jessie, and as Earl searched for some blankets, he discovered that the homeless man lived there. He appeared to be a bit ugly and almost Asian, aside from his creepy, disproportionate eyes and his decayed, hideous teeth, and does have a very Southern accent. The man wanted a bribe if he was to leave: a pair of shoes and a 35-second hug from "the cute one".
However, it was indicated that he was gay, when he took Joy's high-heels and recieved the 35-second hug from Earl. He walked away in his new shoes, awkwardly.
Ad blocker interference detected!
Wikia is a free-to-use site that makes money from advertising. We have a modified experience for viewers using ad blockers

Wikia is not accessible if you've made further modifications. Remove the custom ad blocker rule(s) and the page will load as expected.