Jack Knox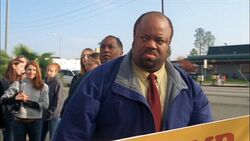 Mentioned in
{{{Mentioned}}}
Date of birth
{{{Birth}}}
Date of death
[[{{{Death}}}]]
Profession
{{{Profession}}}
[[:Category:{{{Images}}}|Images]]

Jack Knox was the store owner the Winky Dinky Hot Dog store in Camden County.
Before Season 1
Edit
Knox opened a new Winky Dinky hot dog store in Camden County, but it was unsuccessful as everyone was used to going to Pops for hot dogs. Knox paid Earl and Ralph $200 to steal the cart, forcing Pops out of buisness ("Stole P's HD Cart").
After Pops returned, Knox paid Ralph, this time to burn down Pops' cart. Earl went to see him, but said that if Earl went to the police he would have to mention that Earl stole the cart in the first place.
Earl managed to raise enough money, with the help of Ralph, Joy, Darnell, Randy and Catalina to buy a new cart for Pops.