Judy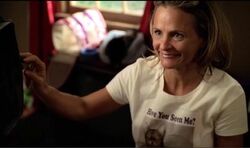 Mentioned in
{{{Mentioned}}}
Date of birth
{{{Birth}}}
Date of death
[[{{{Death}}}]]
Profession
{{{Profession}}}
[[:Category:{{{Images}}}|Images]]
Judy was the owner of Sebastian Phillips Du Champs.
Before Season 2
Edit
Earl kidnapped Sebastian, from Judy, at The 2003 Camden County Cat Show so that Joy could win. ("Larceny of a Kitty Cat").
Judy fell in love with Randy, who was lying about loving cats to be around her. He eventually told the truth that he had allergies, and to be with him, Judy gave up Sebastian to Earl. Their relationship ended when Randy realized that she was treating him like a cat. ("Larceny of a Kitty Cat").
Ad blocker interference detected!
Wikia is a free-to-use site that makes money from advertising. We have a modified experience for viewers using ad blockers

Wikia is not accessible if you've made further modifications. Remove the custom ad blocker rule(s) and the page will load as expected.