Lloyd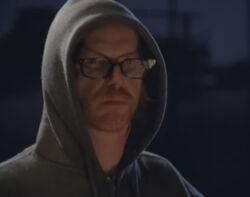 Mentioned in
{{{Mentioned}}}
Date of birth
{{{Birth}}}
Date of death
[[{{{Death}}}]]
Profession
{{{Profession}}}
[[:Category:{{{Images}}}|Images]]
Lloyd was a resident of the Palms Motel. He moved in to Room 230 after Cappy moved out.
Before Season 4
Edit
Joy and Earl ripped off Lloyd for $900 with a useless car whilst they were still married. He went on a cross-country trip in the car, which broke down before he even left Camden. Pushing the car along the road, he realized he had been conned. He then sold the car on to an old woman ("Sold a Guy a Lemon Car").
Earl told Lloyd that he wanted to make up for conning him in the past, but Lloyd said that Earl had opened his eyes to the real world, realizing people were scum. He inferred that he wanted to get back at the world, leaving Earl feeling like Lloyd was planning to blow something up. He tried to talk Lloyd out of it, and said that if someone down the line of selling on the broken car stopped screwing someone else over, then Lloyd should give up his "project". Lloyd agreed. Earl found that no one had been honest about the car, which prompted Lloyd to go back to try to finish constructing his bomb.
Earl ran back to the Motel to stop him, but discovered that in fact he was constructing a rocket ship, not a bomb, and was planning to launch himself into outer space. Lloyd was shocked that Earl ran towards the bomb rather than trying to save himself, and discovered that he was a good person, realizing that everyone isn't scum.
Ad blocker interference detected!
Wikia is a free-to-use site that makes money from advertising. We have a modified experience for viewers using ad blockers

Wikia is not accessible if you've made further modifications. Remove the custom ad blocker rule(s) and the page will load as expected.