Mr. Bearded Dragon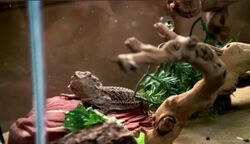 Mentioned in
{{{Mentioned}}}
Date of birth
{{{Birth}}}
Date of death
[[{{{Death}}}]]
Profession
{{{Profession}}}
[[:Category:{{{Images}}}|Images]]

Mr. Bearded Dragon was Ray-Ray's pet.
Mr. Bearded Dragon gets upset whenever Liberty gets agitated when speaking about Joy. So much in fact that he couldn't eat his lettuce and whatnot, not even the arugula. Darnell told Ray-Ray to call him if he was interested in setting up a play date with Mr. Turtle. Ray-Ray said that would be nice. ("B.L.O.W.")
Ad blocker interference detected!
Wikia is a free-to-use site that makes money from advertising. We have a modified experience for viewers using ad blockers

Wikia is not accessible if you've made further modifications. Remove the custom ad blocker rule(s) and the page will load as expected.