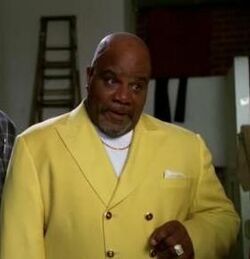 Mr. Saticoy
played by M. Darnell Suttles is the smooth and professional promoter/talent scout for
Black Ladies of Wrestling (B.L.O.W.)
,
Camden County
's most famous all-woman
amateur wrestling
entertainment sport in which
Liberty Washington
aka Lady Liberty was the star and the reigning champion. He first appeared in
B.L.O.W.
as well.
Earl along with his new pal and Liberty's supporting husband Ray-Ray sat next to Mr. Saticoy who act as official scout for Black Ladies of Wrestling on their behalf. Earl told him that when Liberty wins, he'd buy a poster, calender and/or action figure with her image on everything while getting close to crossing her off his list. But as the match begins after his brother Randy as the evil manager The Man got kicked off the stage, Joy as the Klanimal smacks Lady Liberty and revealed herself shortly before the viscious battle to end their long rivalry begins in the ring. He was so impressed by the two of them throughout the whole match before this nasty, yet enetertaining catfight came to a crushing end. Earl introduced Mr. Saticoy to Liberty and Joy. When they first saw him, Saticoy himself spoken like a real pimp with a smooth, sexy voice and a humble charisma. And he told them that he liked what they done in the ring. He wanted to make Liberty a full time B.L.O.W. girl. And he wanted also to hire Joy as well for not only for them to be a team, but also for Joy to play somewhat another fine groupie to start dating Mr. Saticoy. Joy was pleased but she respectfully decline his offer. for she is carrying her half-sister's baby as surrogate. It was settled, he understood Joy's decision and choose only Liberty a star in B.L.O.W. as well. Mr. Saticoy was very proud of both Liberty and Joy for resolving their differences as well as the fantastic match between them. So too did Earl, for he have stolen Liberty's identity. But finally Earl himself has already given Liberty her new identity: the Black Lady of Wrestling.
Mr. Saticoy: Hey bitches. I like what you did out there. I'll make you a B.L.O.W. girl. And I wanna hire you as well, you'll be a team. You'll play a fine white girl who started datin' Mr. Saticoy. Hmm, mmm, hmm.
Ad blocker interference detected!
Wikia is a free-to-use site that makes money from advertising. We have a modified experience for viewers using ad blockers

Wikia is not accessible if you've made further modifications. Remove the custom ad blocker rule(s) and the page will load as expected.