My Name is Earl - Season 1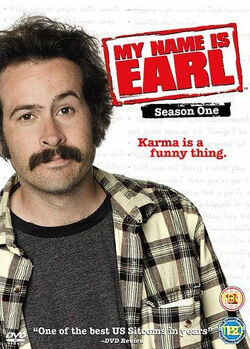 Release date
September 19, 2006
My Name is Earl - Season 1 was released on DVD in the United States on September 19, 2006. The DVD contained all 24 episodes from Season 1, as well as bonus features on the 4th disc. All episodes were presented in Anamorphic Widescreen (1.78:1). Its runtime is approximately 501 minutes.
The DVD was released in Europe under Region 2 format on 25 September 2006.
Character on disc: Earl
Character on disc: Randy
Character on disc: Joy
Character on disc: Darnell
Bonus features
Edit
Ad blocker interference detected!
Wikia is a free-to-use site that makes money from advertising. We have a modified experience for viewers using ad blockers

Wikia is not accessible if you've made further modifications. Remove the custom ad blocker rule(s) and the page will load as expected.