My Name is Earl - The Album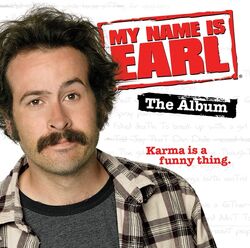 Release date
September 19, 2006
Aspect ratio
{{{aspectratio}}}
My Name is Earl - The Album was released on CD in the United States on September 19, 2006 to concide with the release of My Name is Earl - Season 1 on DVD.
Mixing dialogue snippets with proven rock and country hits employed in first-season episodes, the CD features a vocal version of the show's theme song by the tongue-twisting Nescobar-A-Lop-Lop and the Camden County Band.
The album is designed to look like a gift from Earl to his brother Randy. As Earl writes in the booklet, "Some of the songs are ones that kinda play in my head sometimes when we're walking around and stuff. There's a bunch on here. Those CD's can hold a lot." Earl continues, "We put on some Skynyrd, Jerry Reed, that rap song that is B-7 on the Crab Shack juke box, I even found a song called 'Joy'."
Track listings
Edit
"I'm The Bandit" - (Dialogue from Stole Beer from a Golfer)
"East Bound And Down" - Jerry Reed (Stole Beer from a Golfer)
"The Weight" - Uncle Kracker (Monkeys in Space)
"One Time One Night" - Los Lobos (Didn't Pay Taxes)
"Bust A Move" - Young M.C. (Joy's Wedding)
"Livin' Thing" - Matthew Sweet (Original Version By ELO in Quit Smoking)
"It Takes Two" - Rob Base & D.J. E-Z Rock (Pilot and The Bounty Hunter)
"Smoke! Smoke! Smoke! (That Cigarette)" - Sammy Davis, Jr. (Quit Smoking)
"Gimme Three Steps" - Lynyrd Skynyrd (Joy's Wedding)
"Joy" - Harry Nilsson (Something to Live For)
"Amos Moses" - Jerry Reed (Teacher Earl)
"Instant Karma" - John Hiatt
"What Goes Around Comes Around" - Nescobar-A-Lop-Lop and the Camden County Band (My Name Is Earl Theme - vocal version)
"99 Red Balloons" - Van Nuys (Original Version By Nena in Pilot)
Ad blocker interference detected!
Wikia is a free-to-use site that makes money from advertising. We have a modified experience for viewers using ad blockers

Wikia is not accessible if you've made further modifications. Remove the custom ad blocker rule(s) and the page will load as expected.