Nick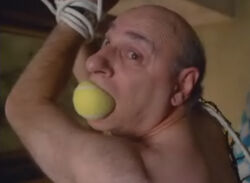 Mentioned in
{{{Mentioned}}}
Date of birth
{{{Birth}}}
Date of death
[[{{{Death}}}]]
Profession
{{{Profession}}}
[[:Category:{{{Images}}}|Images]]
Nick was a resident of the Palms Motel. He was staying in Room 203, just down the hall from Earl and Randy.
Nick was in his room in the motel, in the middle of what appeared to be a strange sexual act involving two others dressed up in tennis gear, when Catalina barged into the room in an attempt to avoid Earl and Randy's questions about her nephew, Oscar, who had a strange voodoo obsession.
After a brief conversation, during which the two tennis players spanked Nick with their rackets, Earl, Randy and Catalina left a screaming Nick ("Little Bad Voodoo Brother").
Ad blocker interference detected!
Wikia is a free-to-use site that makes money from advertising. We have a modified experience for viewers using ad blockers

Wikia is not accessible if you've made further modifications. Remove the custom ad blocker rule(s) and the page will load as expected.