The Pillow List is a list Earl Hickey made whilst in prison. The List was confiscated upon entry, and so Earl was unable to complete items from it whilst incarcerated. After minor issues arose whilst in prison, Earl created the List to keep on the good side of karma ("Frank's Girl").
List items
The Pillow List had just four items on it.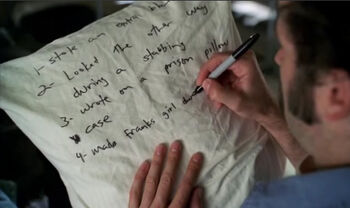 "Stole an extra blanket"
"Looked the other way during a stabbing"
"Wrote on a prison pillow case"
Earl used a pillow case to write the new List on.
"Made Frank's girl dump him"
Earl convinced Billie Cunningham to leave Frank, another inmate at the prison, so she could move on with her life.
Ad blocker interference detected!
Wikia is a free-to-use site that makes money from advertising. We have a modified experience for viewers using ad blockers

Wikia is not accessible if you've made further modifications. Remove the custom ad blocker rule(s) and the page will load as expected.