Pops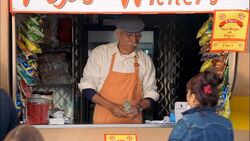 Mentioned in
{{{Mentioned}}}
Date of birth
{{{Birth}}}
Date of death
[[{{{Death}}}]]
Profession
{{{Profession}}}
[[:Category:{{{Images}}}|Images]]

Pops was the owner of a hot dog stand that Earl stole before Season 1. He was #159 on Earl's List.
Before Season 1
Edit
Pops owned a hugely popular hot dog stand, and it beat out competition from the new Winky Dinky hot dog store. The owner, Jack Knox paid Earl and Ralph $200 to steal the cart, forcing Pops out of buisness ("Stole P's HD Cart").
Earl found the cart hidden in the forest where he left it, and took it back to Pops. After getting him buisness by arranging a 2 for 1 offer, Earl decided to cross him of his List. However, Ralph burnt down the cart after being to do so by Jack Knox, the owner of the Winky Dinky Dogs store.
Ralph felt bad for what he had done so he cut off his little toe and put it in a Winky Dinky dog, gaining $10,000 compensation which he used to buy a new cart for Pops.
Earl got a phone call from Pops as Billie set fire to his cart when she started undoing all the items on Earl's list ("Camdenites (Part 2)")
Ad blocker interference detected!
Wikia is a free-to-use site that makes money from advertising. We have a modified experience for viewers using ad blockers

Wikia is not accessible if you've made further modifications. Remove the custom ad blocker rule(s) and the page will load as expected.