Raynard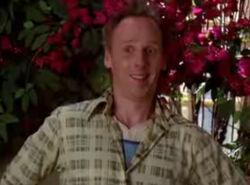 First seen
Reading is a Fundamental Case
Last seen
Reading is a Fundamental Case
Appeared in
{{{Appearances}}}
Mentioned in
{{{Mentioned}}}
Date of birth
{{{Birth}}}
Date of death
[[{{{Death}}}]]
Profession
{{{Profession}}}
[[:Category:{{{Images}}}|Images]]
Raynard is a Earl and Randy's friend. Before the list, Earl and Randy had to do community service in the "Humiliate to rehabilitate" program. That was bad, but there was a guy, Raynard, who made it fun.
He even let Earl and Randy crash with him when their dad drove them out for the eighth time. Raynard was a strange man: in his house there was a bath tub in the living room, he let outside plants grow inside and he put the globe upside down.
Earl, Randy and Raynard met three girls at the Crab Shack and they had sex with them at the scout camp, in a bookmobile stolen by Earl.
After some time, Raynard asked Earl if he could crash with him for a while, but Earl was married to Joy, who at the time was pregnant and very moody, so he didn't let him stay.

Raynard had no place to go, but then he remembered the bookmobile, so he began living there. Having no food, he ate hallucinogenic berries, which drove him crazy: he behaved like an ape and he thought a raccoon was his wife.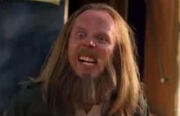 Earl and Randy took him to the city again and they gave him colonic irrigation in order to let him be back in his right mind. After that, they found him some works, but he always got into trouble.
He couldn't live in the normal world, so he was taken to a psychiatric hospital. There, he talked to Earl and said he wasn't crazy, but he just couldn't live like all the other people there.
Then Earl and Randy helped him to escape and they took him to the woods, where he finally could live freely.
Ad blocker interference detected!
Wikia is a free-to-use site that makes money from advertising. We have a modified experience for viewers using ad blockers

Wikia is not accessible if you've made further modifications. Remove the custom ad blocker rule(s) and the page will load as expected.