Rosie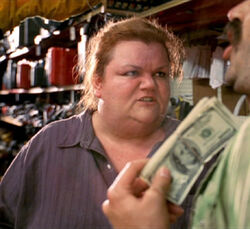 Appeared in
{{{Appearances}}}
Mentioned in
{{{Mentioned}}}
Date of birth
{{{Birth}}}
Date of death
[[{{{Death}}}]]
Profession
{{{Profession}}}
[[:Category:{{{Images}}}|Images]]
Rosie was a bookie living in Camden County. She owned the United Pawn Shop.
Before Season 1
Edit
Earl fixed a high school football game, earning $100 from Rosie unfairly ("Randy's Touchdown").
Earl and Randy went to see Rosie to get back their grandfather's cuckoo clock that Joy had pawned. Whilst there, Earl decided to cross off #58 on his List, where he earned money from Rosie by fixing Randy's high school football game. Rosie was not pleased when she learnt that Earl had lied, and rebuked Randy for throwing his only chance to feel what it was like to score a touchdown. After Earl helped Randy, he took the money back to Rosie who, whilst unhappy, took Earl's money.
Rosie was in the Crab Shack, where Earl was teaching Kenny James how to be more manly. He introduced Kenny to betting, and he became addicted ("Born a Gamblin' Man")
Memorable quotes
Edit
Rosie: I should pull you though this talking hole and stomp on your sweaty little teabag.
Ad blocker interference detected!
Wikia is a free-to-use site that makes money from advertising. We have a modified experience for viewers using ad blockers

Wikia is not accessible if you've made further modifications. Remove the custom ad blocker rule(s) and the page will load as expected.