Ruby Whitlow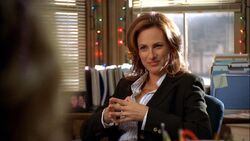 Appeared in
{{{Appearances}}}
Mentioned in
{{{Mentioned}}}
Date of birth
{{{Birth}}}
Date of death
[[{{{Death}}}]]
Profession
{{{Profession}}}
[[:Category:{{{Images}}}|Images]]
Ruby Whitlow was Joy's lawyer for her case of kidnapping. She was deaf, and had an interpreter, Doug.
Joy arrived at her attorney's office and discovered that Ruby was a woman, to her surprise. Furthermore, when she learnt that Ruby was deaf, Joy walked out of the office, refusing to deal with a deaf lawyer. She was left to defend herself, but was unable to understand any legal books she had picked up. Joy realized that she would have to go back to Ruby, despite her wishes. Joy returned to the office and made a half-hearted attempt at an apology, and Ruby seemed uninterested. When Joy mentioned her children and their inability to live without their mother, Ruby eventually agreed to represent Joy ("Sticks & Stones").
Ruby tried to teach Joy to control her anger in the courtroom. After a question that is designed to trigger an angry response ("And you've been a slut for how long?"), Joy has an outburst on Ruby's translator, Doug. She calmed down, and Ruby asked another question through Doug that insulted Joy's children, causing another attack. Ruby sent Joy to a support group, where Joy was told that she had a "disease" that was not her fault. She went back and told Ruby, and Doug suggested she tried some prescription drugs for her anger ("Born a Gamblin' Man").
Ruby was looking for a character witness for Joy and thought Earl would make an excellent character witness. While rehearsing with Joy, she realizes that Earl has a crush on Ruby and lets the cat out of the bag. Earl fears the worst, but Ruby asks him out to dinner. Earl fumbles the date, but Ruby tells him that he can cross #33 off his list, when Ruby looks at on Earl's list she discovered that Earl and Randy robbed her. Even when Earl tells her it was the old Earl that did that, Ruby storms out, saying it was all a mistake, she even refused to listen him at the trial. When the prosecutor plays several 911 tapes from when Earl and Joy were married, the jury turns against her. Earl feels terrible. All he can think about is Joy's family being torn apart, so he claims that he stole the truck, offering evidence to prove it. Joy doesn't get it, but Earl explains that he doesn't have three strikes, or a family. Joy thanks Earl, and Ruby forgives him ("The Trial").

Ad blocker interference detected!
Wikia is a free-to-use site that makes money from advertising. We have a modified experience for viewers using ad blockers

Wikia is not accessible if you've made further modifications. Remove the custom ad blocker rule(s) and the page will load as expected.