Seth Green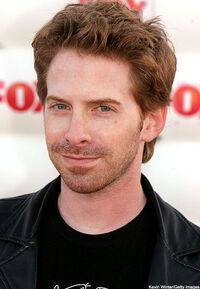 Role
External Links:
[ IMDB Site]
Biography
Edit
Seth Benjamin Gesshel Green (born February 8, 1974) is an American actor, comedian, voice actor, and television producer. He is well known for his role as Daniel "Oz" Osbourne in Buffy the Vampire Slayer, as well as Doctor Evil's son Scott in the Austin Powers series of comedy films and Mitch Miller in That '70s Show. He also voices the characters of Chris Griffin on Family Guy, Lieutenant Gibbs in Titan Maximum, Flight Lieutenant Jeff "Joker" Moreau in the 2007 video game Mass Effect and its 2010 sequel Mass Effect 2, and is one of the creators and producers of the stop motion comedy series Robot Chicken, where he voices many characters as well. Green appeared in many other movies, such as Rat Race, The Italian Job, Can't Hardly Wait, as a child in Stephen King's It and as Dan in the 2004 movie Without a Paddle.
Year
Title
Role
Notes
1984
The Hotel New Hampshire
'Egg' Berry
1986
Willy/Milly
Malcolm
1987
Radio Days
Joe
Can't Buy Me Love
Chuckie Miller
1988
Big Business
Jason
My Stepmother Is an Alien
Fred Glass
1990
Missing Parents
Pump Up the Volume
Joey
Stephen King's It
Young Richie Tozier (Beep Beep Richie)
1992
The Double 0 Kid
Chip
Direct-to-video release
1993
Ticks
Tyler Burns
Direct-to-video release
Arcade
Stilts
Direct-to-video release
Airborne
Wiley
The Day My Parents Ran Away
Leo
1995
Notes from Underground
Punk Neighbor
White Man's Burden
3rd Youth at Hot Dog Stand
1996
To Gillian on Her 37th Birthday
Danny Green
1997
Boys Life 2
Homophobe 2
Segment: Nunzio's Second Cousin
Austin Powers: International Man of Mystery
Scott Evil
1998
Can't Hardly Wait
Kenny Fisher
Enemy of the State
Selby
Uncredited role
1999
Idle Hands
Mick
Stonebrook
Cornelius
Austin Powers: The Spy Who Shagged Me
Scott Evil
2001
Rock Star 101
Le'Von
Short film
The Trumpet of the Swan
Boyd
Voice role
The Attic Expeditions
Douglas
Josie and the Pussycats
Travis (Du Jour band member)
America's Sweethearts
Danny Wax
Rat Race
Duane Cody
Knockaround Guys
Johnny Marbles
2002
Austin Powers in Goldmember
Scott Evil
2003
Party Monster
James St. James
The Italian Job
Lyle
2004
Scooby-Doo 2: Monsters Unleashed
Patrick Wisely
Without a Paddle
Dan Mott
2005
Be Cool
Shotgun (Music video director)
Uncredited role
Stewie Griffin: The Untold Story
Chris Griffin/Additional voices
Voice role

Direct-to-DVD release

The Best Man
Murray
2006
Electric Apricot: Quest for Festeroo
Jonah "the taper"
Leave Chris Crocker alone
Himself
YouTube video
The TV Set
Slut Wars Host
2007
Blue Harvest
Chris Griffin/Additional voices
Voice role

Direct-to-DVD release

2008
The 1 Second Film
Himself
Sex Drive
Ezekiel
2009
His Name Was Jason: 30 Years of Friday the 13th
Himself
Documentary-Film
Old Dogs
Ralph White
Something, Something, Something, Darkside
Chris Griffin/Additional voices
Voice role

Direct-to-DVD release

Television
Year
Title
Role
Notes
1984
Young People's Specials
Charlie
Episode: Charlie's Christmas Secret
1985
ABC Afterschool Special
Tommy Sanders
Episode: I Want to Go Home
Tales from the Darkside
Timmy
Episode: Monsters in My Room
1986
Amazing Stories
Lance
Episode: The Sitter
Spenser: For Hire
Andy Chandler
Episode: The Hopes and Fears
1987
The Comic Strip
Voice
Voice role
Action Family
Danny Elliot
1988
The Facts of Life
Adam Brinkerhoff
Episode: The Beginning of the EndEpisode: The Beginning of the Beginning
Divided We Stand
Cody Gibbs
ABC
1989
Free Spirit
Joey
Episode: Too Much of a Good Thing
Mr. Belvedere
Episode: BigEpisode: Paper Mill
1990
Life Goes On
William Butler
Episode: The Spring FlingEpisode: The Visitor
It
Young Richie Tozier
ABC
1991
Our Shining Moment
Wheels
Good & Evil
David
1992
Evening Shade
Larry Phipps
Episode: Hasta la Vista
The Wonder Years
Jimmy Donnelly
Episode: Lunch StoriesEpisode: Sex and Economics
Batman: The Animated Series
Wizard
Voice role

Episode: I Am the Night

1993
Beverly Hills, 90210
Wayne
Episode: The Game Is Chicken
The X-Files
Emil
Episode: Deep Throat
The Day My Parents Ran Away
Leo
TV-movie
seaQuest DSV
Mark 'Wolfman'
Episode: Photon Bullet
1994
The Byrds of Paradise
Harry Byrd
Weird Science
Lubec
Episode: Lisa's Virus
1995
Real Ghosts
Termite
UPN
Step by Step
Danny
Episode: Head of the Class
1996
Something So Right
Napoleon
Episode: Pilot
1997
Pearl
Bob
Episode: Mission ImPearlsible
Mad About You
Bobby Rubenfeld
Episode: Guardianhood
The Drew Carey Show
The Emcee
Episode: That Thing You Don't
Temporarily Yours
David Silver
1997–2000
Buffy the Vampire Slayer
Daniel "Oz" Osbourne
40 episodes
1998
Cybill
Jaybo
Episode: Cybill Sheridan's Day Off
1999
Angel
Daniel "Oz" Osbourne
Episode: In the Dark
1999–2002
Batman Beyond
Nelson Nash


Dempsey

Voice role

Episode: Rebirth (1) Episode: Golem Episode: Revenant Episode: The Eggbaby Episode: Sentries of the Lost Cosmos

Batman Beyond: Return of the Joker
Nelson Nash
Voice role
100 Deeds for Eddie McDowd
Eddie McDowd
Voice role
2000
MADtv
Brightling
Episode: 5.17Episode: 6.15

Episode: 7.18 Episode: 10.12

2000–2001
Tucker
Himself
2002
Greg the Bunny
Jimmy Bender
Whatever Happened to Robot Jones?
Various voices
Voice roles
2003–2004
That '70s Show
Mitch Miller
Episode: The Battle of Evermore (a.k.a. Pioneer Days)Episode: Nobody's Fault But Mine (2) (a.k.a. Hyde Loves Jackie)

Episode: Substitute Episode: Squeeze Box Episode: E5:15

Aqua Teen Hunger Force
Himself
Special guest, one episode: The Dressing
2004
Married to the Kellys
Dr. Jim Coglan
Episode: A Portrait of Susan
Crank Yankers
Voice role

Episode: 2.27

Sesame Street
Vinny
Episode: August 16, 2004
2005
Will & Grace
Randall Finn
Episode: Friends With Benefits (1)Episode: Friends With Benefits (2)
2005–2009
American Dad!
Etan Cohen, Matthew McConaughey, Joey
Voice role

Episode: Homeland Insecurity Episode: Tearjerker Episode: Bar Mitzvah Shuffle Episode: Jack's Back

2005–present
Robot Chicken
Various voices
Co-creator

Voice roles Director Writer

Family Guy
Chris Grissel

Neil Goldman Additional voices

Voice roles
2006
Four Kings
Barry
Ned's Declassified School Survival Guide
Dog
Voice role
The Secret Policeman's Ball
Private Parts/Mt. Pink
Channel 4
Entourage
Himself
Episode: Strange DaysEpisode: Vegas Baby, Vegas!
2007
Robot Chicken: Star Wars
Various voices
Co-creator

Voice roles Director Writer TV-special

Grey's Anatomy
Nick
Episode: Crash Into Me (1)Episode: Crash Into Me (2)
2008
Reno 911!
Rick the Manager
Episode: Undercover at Burger Cousin
My Name Is Earl
Buddy
Episode: The Magic Hour
Entourage
Himself
Episode: Seth Green Day
Heroes
Sam
Episode: The Eclipse (1)Episode: The Eclipse (2)

Episode: Our Father

Robot Chicken: Star Wars Episode II
Various characters
Co-creator

Voice roles Director Writer Executive producer TV-special

2009
Un-broke: What You Need To Know About Money
Himself
Television special
WWE Monday Night Raw
Himself
Special guest host
Star Wars: The Clone Wars
Todo 360
Guest voice
Titan Maximum
Various characters, Lt. Gibbs
Voice roles

Exeutive producer

Fanboy and Chum Chum
Michael Johnson
Voice only
The Cleveland Show
Chris Griffin
Guest voice
Ad blocker interference detected!
Wikia is a free-to-use site that makes money from advertising. We have a modified experience for viewers using ad blockers

Wikia is not accessible if you've made further modifications. Remove the custom ad blocker rule(s) and the page will load as expected.