Tess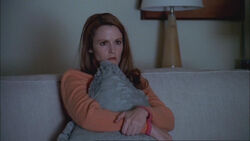 Mentioned in
{{{Mentioned}}}
Date of birth
{{{Birth}}}
Date of death
[[{{{Death}}}]]
Profession
{{{Profession}}}
[[:Category:{{{Images}}}|Images]]

Tess was the girlfriend of Scott.
Before Season 1
Edit
After Scott was manipulated into thinking he was a golf pro by Earl and Randy, he became obsessed with the game. Once the brothers stopped fixing his games he did not do as well as before, and so it was on his mind at all times. Tess became overwhelmed with it, and left him, forcing Scott to live in his car.
Once Scott moved out Tess had to take up a second job and was forced to put Poochie, their dog, up for adoption ("Stole Beer from a Golfer").
Earl helped Scott get back together with Tess by showing that he would no longer play golf. She admitted to missing him, and allowed him to move back in. She also admitted to, as Scott put it, "Churned another dude's butter", which Earl responded "Ya, I can't un-ring that bell". She then told Scott that she had to put Poochie up for adoption, and Earl agreed to go and find him. However, it was Randy who actually found the dog, and they took it back to the happy couple.