Thomas Monroe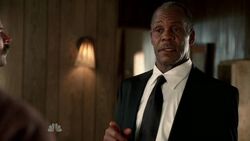 Appeared in
{{{Appearances}}}
Mentioned in
{{{Mentioned}}}
Date of birth
{{{Birth}}}
Date of death
[[{{{Death}}}]]
[[:Category:{{{Images}}}|Images]]
Thomas Monroe is the Father of Darnell Turner (Harry Monroe). Darnell has lied about his father and said he was dead. He had told Earl and Randy that he his dad died in the American-Canadian War. He had told Joy that his father died in a ferris wheel accident which is why he never rides them but the real reason he woudn't ride them is because Joy refused to obey the 'no rocking' sign. In episode My Name is Alias he tells them all about his Father and working for his Agency.
Before Season 4
Edit
Thomas is an agent of a mysterious government organization. He wasn't a great dad because he was too busy working. He sometimes forgot he even had a family. When Darnell was a baby he saw his son was inceptional so he shipped his son off to spy training. He then become one of the agency's best until they made him go on a mission getting him to think about all he had given up for the agency. Even though he wasn't in the Navy he testified before a subcommittee nearly bring down his father's agency. His father never forgave Darnell for testifying. The Whole Agency had wanted him dead causing him to go into witness protection. ("My Name is Alias")
Thomas came to Joy and Darnell's trailer (while Joy and Darnell went into witness protection and Earl and Randy moved back in) looking for Darnell. He figures out that they know where he is so he handcuffs them to a bomb(5 minutes till it blows up) and try to call Thomas Randy knocks the phone on to the ground and after the time is up, Thomas then tells them it's a fake bomb. Thomas thought that by hand cuffing them to a fake bomb they'd give up Darnell's location but cause they were unable to he assumed that they were brave and didn't crack. Thomas then went to Joy and Darnell and shoots Earl, Randy and Joy with a dart gun. He shot two at Darnell, but he catches them in his hands. ("My Name is Alias").
Ad blocker interference detected!
Wikia is a free-to-use site that makes money from advertising. We have a modified experience for viewers using ad blockers

Wikia is not accessible if you've made further modifications. Remove the custom ad blocker rule(s) and the page will load as expected.