Unnumbered list item 18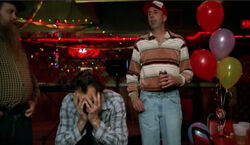 List title
Stole Slow Roger's car and slept with his sister
Unnumbered list item 18 was an unnumbered item on The List.
Stole Slow Roger's car and slept with his sister
Edit
This list item was the 8th and final unnumbered list items featured in the episode The Birthday Party. Earl was having a birthday party at the Crab Shack to celebrate all his good deeds he did with his list, only to be reminded by everyone of bad things he had done in the past.
Earl "Stole Slow Roger's car and slept with his sister". Since Slow Roger is slow, it took him a long time to list every part of the car, and threw in as part of the car "slept with my sister".
It was Randy's idea at the birthday party, that everyone would remind Earl of some of the bad things he did, as a prank. Before Earl was let in on the joke he had enough, and left the party early. They decided to "Surprise" him in his motel room, and as gifts they each crossed off the item that they mentioned. This unnumbered list item was absolved.
Ad blocker interference detected!
Wikia is a free-to-use site that makes money from advertising. We have a modified experience for viewers using ad blockers

Wikia is not accessible if you've made further modifications. Remove the custom ad blocker rule(s) and the page will load as expected.