Unnumbered list item 2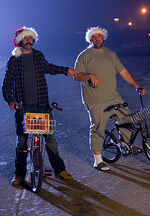 List title
Broke Dodge and Earl Jr.'s Christmas bikes
Unnumbered list item 2 was an unnumbered item on The List.
Broke Dodge and Earl Jr.'s Christmas bikes
Edit
Earl and Randy decided to make a beer run on the night of Christmas Eve but were too drunk to drive so Earl had an idea to ride the bikes that were meant to be Dodge and Earl Jr.'s Christmas present but were so drunk that they crashed while riding them. Earl then got them new bikes for Christmas after he wrote his list.
Ad blocker interference detected!
Wikia is a free-to-use site that makes money from advertising. We have a modified experience for viewers using ad blockers

Wikia is not accessible if you've made further modifications. Remove the custom ad blocker rule(s) and the page will load as expected.