Unnumbered list item 21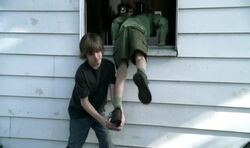 List title
Used Glen Shipley to help steal when they were children
Unnumbered list item 21 was an unnumbered item on The List.
Used Glen Shipley to help steal when they were children
Edit
Earl runs into Sonny, an old friend, in prison that shows him the way to survive … be invisible. Earl has realized that while he's in prison, he must put the list away and put nice Earl away for a while to survive. And once Earl's old friend Sonny rats him out to Glen Shipley, another inmate, Earl steps up to Sonny and gets thrown in the hotbox with Glen.
To make up the past to Glen, Earl made him a weapon however; Glen used it to stab Earl. Earl finds out that Glen messes up his chances at parole every time and he wants to know why, but Glen doesn't make it easy for Earl to help. Earl helps Glen collect his Scout badges and enlists the assistance of the other inmates.

Ad blocker interference detected!
Wikia is a free-to-use site that makes money from advertising. We have a modified experience for viewers using ad blockers

Wikia is not accessible if you've made further modifications. Remove the custom ad blocker rule(s) and the page will load as expected.